Adding your Online Ordering Link to Google Business
2. Click on "Food Ordering" in the left navigation, enter your Online Ordering URL ( e.g. https://order.spillover.com/ordering/<mybusinessname>) and click "Add Custom Link"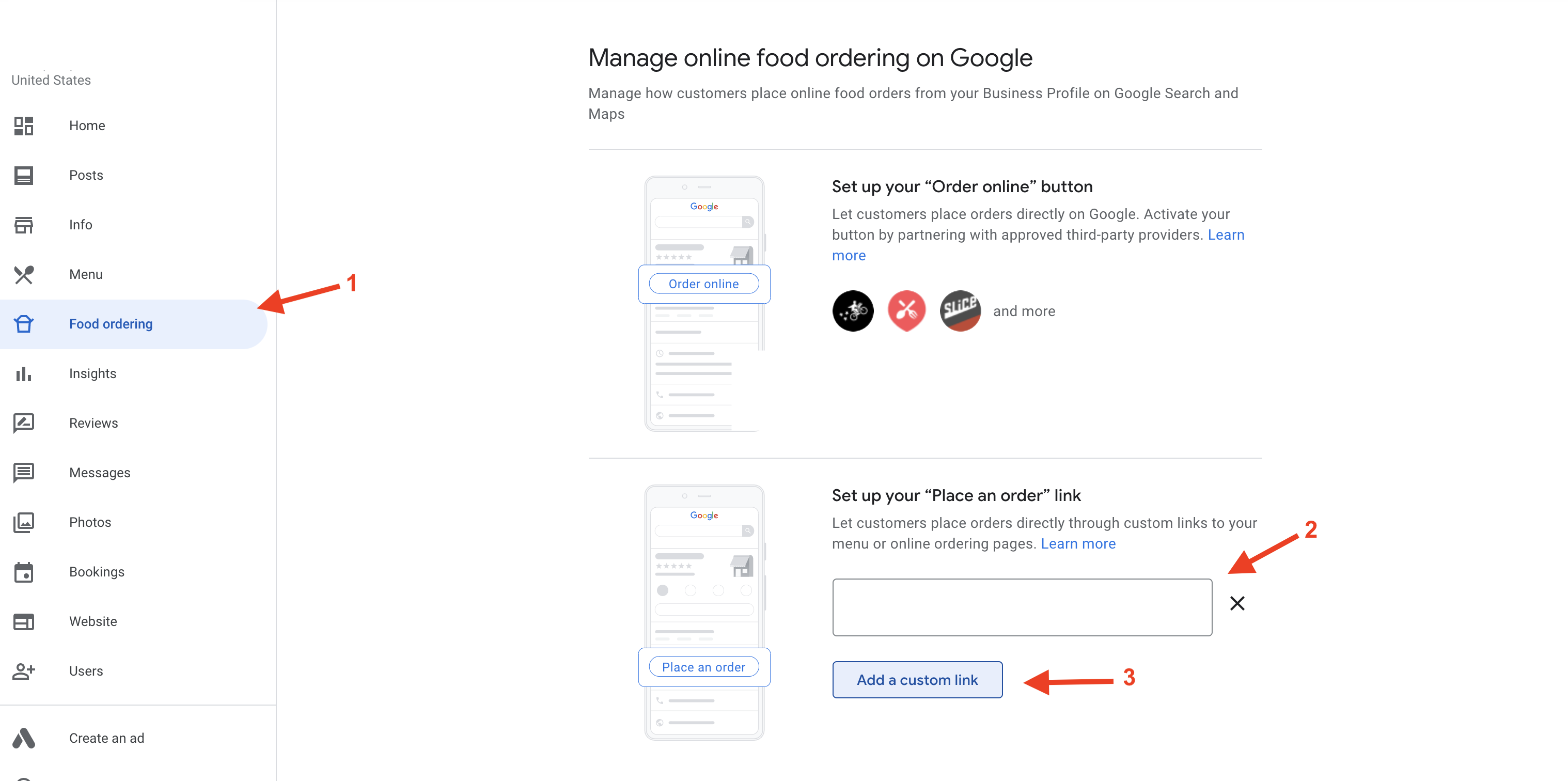 Related Articles

Adding Spillover as a Manager to your Google Business to Update your Online Ordering Link

Instructions on how to add Spillover as a Manager to your Google Business Profile to update your Online Ordering Link 1. Log in to your "Google My Business" account and click on "Users" on left hand panel. 2. Click on 'Add Users' 3. Add ...

Tips for promoting your online ordering business

After you go live you will receive a URL link for your Online Ordering solution that you can publish anywhere your business has a presence on the internet. This article includes some quick and easy tips to help you let the world know you are ready to ...

Guide 5: Getting Started with your Engage Online Ordering Solution

Training Video 1: Overview of your Online Ordering Admin (Web Browser) Topics Covered in this Video & Links to Additional Support Articles: Enabling/Disabling your Online Ordering via the Admin Updating a Menu item and Enabling/Disabling a menu Item ...

Getting the most out of your Online Ordering (Webinar)

This recorded live training webinar focused on tips and tricks you need to manage your Online Ordering Solution. Topics covered include: Tips on Promoting your Online Ordering Solution Creating Discount Coupons Adding Popup messages to your Online ...

Jupiter - Application Process and Link

Summary of benefits Total Fees = 2.9% + $0.30 per transaction No Monthly Fees, No Gateway Fees, No Termination Fees Simple Online Application. Jupiter Application Link : https://onboarding.jupiterhq.com/spillover Fully integrated with Spillover ...