Viewing & Downloading all Subscribers
1. Click on Subscribers->All in the Audience Section of the Engage Admin Navigation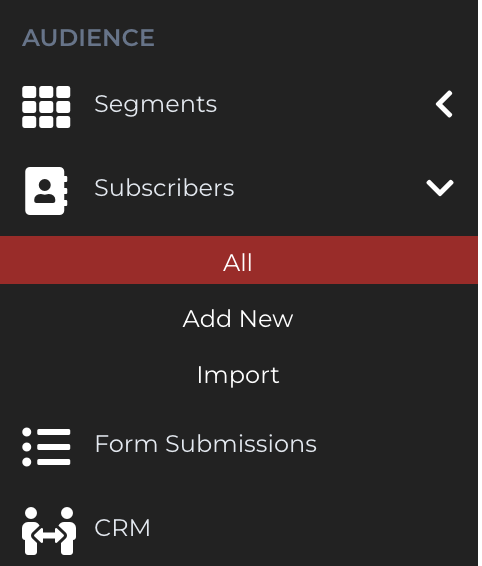 2. Click on "View Subscriber List"


3. You will see a list of all subscribers which you can also download as a CSV file.


Related Articles

Adding new subscribers individually

1. Click on Subscribers-> New in the Audience section of Engage Admin Navigation 2. Enter subscriber info (First, Last, Email and Zip, Birth Day/Month if you have it) and click register.

Best Practices for managing subscribers to your Mailing list

This guidance presents 5 ideas for how you can stay in touch with your Mailing List Subscribers using a combination of the Engage Email Marketing pre-built templates and Engage's DIME automated messages. 1. Thank You Email (Autoresponse on form ...

Viewing and Responding to Website Form Submissions

Your WebForm inquiries (e.g. Contact, Catering, Private Events, Job Application WebForms) are forwarded to the email address you provided during activation, but you can now also log into your Engage Admin to view, manage and respond to all your ...

How to Export your OpenTable Guest List and import it into your Engage Subscriber DB

It's easy to export your Guest data (name, phone number, email address, etc.) from your OpenTable system. Follow these steps to get going! From your OpenTable desktop, select the "Reports" tab Click on "Marketing Options," and then, "Guest Export" ...

Guide 2: Getting Started with your Engage Internet Marketing System

1. Centralized Campaign Calendar Accessing the Engage Campaign Calendar to view all your email and social media campaigns Using Your Campaign Calendar: Filtering, Viewing Content, and Accessing Metrics Subscribe to your Campaign Calendar to view on ...