Access to the Business Manager is crucial to managing posts on Facebook and Instagram and connecting all accounts correctly in one place. For clients who cannot access the Business Settings, we'll try to lead you to support, but please keep in mind that every situation is different and troubleshooting depends on what role you have in the business and what access (if any) you have to the business page. We'll try to help identify the issue and suggest the best troubleshooting option, but all communication to Facebook Support will need to come from you (the business), as Spillover cannot liaison with Facebook support as a third party.
There are various reasons people lose access to their Business Manager:
Business Manager account was created by a past employee who is no longer associated with your company. You are not able to trace them or they're not willing to grant access.
Business Manager account was created by an individual but you don't know who it is. No one on your team has access to the Business Manager account.
Business Manager account didn't adhere to Facebook's policies and so the account was suspended. No one else has access.
Your Page was hacked and you no longer have access.
Each case requires a different approach, and different users have different views from their profile -- so keep in mind that some screens will differ from what you see here -- but we will try to help identify the best option to start your case. Here are a few suggested steps for troubleshooting access issues to lead to account recovery:
1. Identify Page users and make all efforts to access the Business Account within this team.
This should always be the first step in troubleshooting access to the Business Account. Go to your Facebook Page, select "Settings" > "New Pages Experience" > "Page Access" to manage and view all user roles.

See:
"People with Facebook access" / "task access"

These users are admins and/or editors on the page and have the best chance of having created the Business Manager account and/or have been granted access. Make sure everyone listed with "Facebook access" or "Task access" has logged into their Facebook and gone to
business.facebook.com/settings
to check their own access level.


See:
"Business Account access"

This is the account we're trying to access.

Do you recognize a name or owner this could belong to (sometimes this is set up with a personal name). If so, reach out to anyone who might be able to access this business account. Take note of the "Meta Business Account ID" listed here as you'll need to reference that number in any subsequent support requests.


See:
"Partner with access"

Partnerships with the page won't have the access to offer Business Account access to personal users, but Partners could be a good troubleshooting contact if perhaps any personal users within that partnership business may have created or been granted Business Account access. Reach out to the Partner and inquire what access they have to your assets, explaining your goal is to access the Meta Business Account.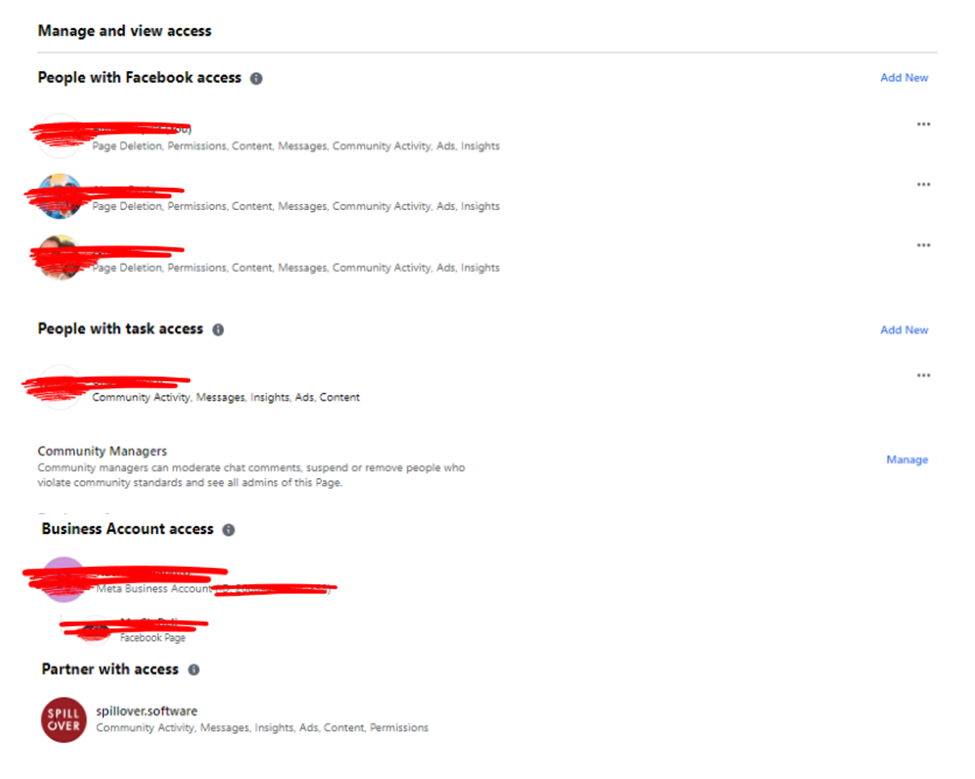 Also under "New Pages Experience," view "Page Management History" to get a view page roles and dates -- this might show when a Business Account claimed access, and/or persons added or removed from the account to give clues to the origin of the Business Account.


2. Remove page from current Business Account
If no one on your team has access to the Business Account listed in your user settings, you can remove your page at any time (you'll need to be listed under "People with Facebook Access" with full control access to the page).

Click "Remove from business account" and follow steps to create a new business account and add your page.
3. Create a new Business Account
Even if there's an account listed under "Business Account access" on your page, you can still create a NEW business account and petition to have your page and assets moved here.
Create a New Business Account
Before you begin:

Make sure that you have a personal Facebook profile to confirm your identity.
*If you don't have a personal profile, follow steps to "Create a Facebook Account" using your real name and contact information.
You need a Facebook profile to create a Business Account in Business Manager. You use your Facebook username and password to sign into Business Manager.

You can only create 2 Business Accounts in Business Manager. If you need more, please work with someone else in your organization to create additional accounts.
Click Create account.
Enter a name for your business, your name and work email address and click Next.
Enter your business details and click Submit
Add your page to your new Business Account
Before you begin:

You must have full control of the Business Page.
*If you're using a new profile, have the page owner grant you Full Control Access to the business page under "New Pages Experience," more info here.
You must have full control of the Business Account.

The Page you're trying to add can't be owned by another person or business. Each Page can only be owned by one business. If you want to add a Page you don't own, follow steps above to "Remove page from current Business Account"

If your Page is linked to an Instagram business account, you should also add your Instagram account to your Business Account.
Go to your Business Settings at business.facebook.com/settings
Select Pages under Accounts, click "Add pages" button.
Select "Claim an existing Facebook page" and follow steps to confirm ownership and claim.


Request Support from your new Business Account

Find the "Help" question mark icon inside your Business Account, located at the bottom left of your business settings page. This will generate a righthand panel in the account with articles and FAQ's


In the righthand Help column, find "Chat with Support" if available – this is the best bet to start your case.




If you don't see a "Chat" option, scroll to find "Contact Support Team"




Select the closest issue and click through to "Need More Help – Contact Support"



Another option is to try generating support from the Business Help Center: facebook.com/business/help/support/get-help … any offerings for "Contact" or "Chat" will be the most useful actions.


3. For a hacked Facebook Page
People lose access to Facebook Page and Facebook Business Manager by various types of hacking attacks. If you think you lost access to your Page because your account is hacked, Facebook provide a contact option for recovery: facebook.com/help/contact/1280439701975125
4. Submit Admin Dispute Request
If you see this message (or ANY prompt for an "Admin Dispute Request," click the link to start your case with Facebook Support: