Snoozing Items in the Order Boss App
How to Snooze Items From Your Order Boss App

Launch the Order Boss App on your iPad


On the navigation sidebar select "Menu"


Here you will see your categories displayed on the left

Clicking on a category will display the items in that category

You can use the search bar to look up specific items or scroll through all that are listed

Ensure that "Items" is selected

To Snooze an Item:

Click on "Snooze" on the item you wish to temporarily disable. You can select from the drop down menu the time period for snoozing. The item will automatically un-snooze when that time is up. There are four snooze choices:


Disable Until Tomorrow: The item will disable for the remainder of the day, but reappear at opening time tomorrow

Disable Until Day after Tomorrow: The item will disable for the remainder of the day and for the following day, reappearing at opening time day after tomorrow

Disable Now and for 2 Full Days Following: The item will re-enable three days from now

Disable indefinitely: The item will snooze indefinitely and will need to be re-enabled manually sometime in the future


When you have selected your desired length of time, click submit

To unSnooze an Item

Find the item you wish to unsnooze


You can filter to just see snoozed items by selecting "Snoozed"

Next to the item name, click on the white "Snoozed" box

The box will refill green and display the option to action "Snooze." This item is now shown in the menu again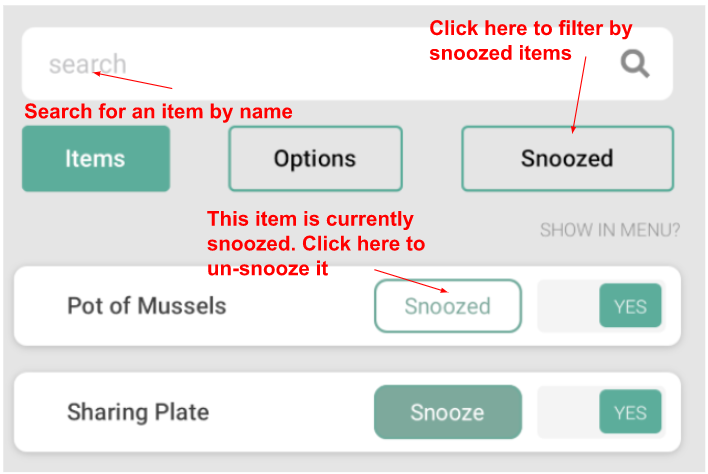 Related Articles

How to create a Featured Menu Items Category in Online Ordering

Do you have featured items or staff picks you want to highlight to your customers? By directing them towards your top menu items, you can help make their ordering process easier, while driving your sales. Follow this Best Practice Step-By-Step Guide ...

Setting up a new Online Ordering Menu

Basic Menu Concepts : Categories, Items, Options and Group Categories Categories: Menu Categories such as "salads" or "starters" are implemented here Availability can be updated for the entire category (this means all items assigned to this ...

FAQ - Online Ordering Solution

What options are there for managing orders? There are multiple options for handling orders and many of these options can be used at the same time. E.g., get a text alert or an automated call if a print fails. Order Boss iPad Application Receipt ...

Guide 5: Getting Started with your Engage Online Ordering Solution

Training Video 1: Overview of your Online Ordering Admin (Web Browser) Topics Covered in this Video & Links to Additional Support Articles: Enabling/Disabling your Online Ordering via the Admin Updating a Menu item and Enabling/Disabling a menu Item ...

Bluetooth Printer support in the Order Boss iPad App

1. The Order Boss App supports the following bluetooth printer : Citizen CT-S601II Receipt Printer You can order this printer from : https://shopposportals.com/collections/biteheist/products/citizen-ct-s601ii-receipt-printer 2. When you receive the ...