Managing Popups for Online Ordering
T
o create a popup message to display to your online ordering customers. Navigate to your Online Order Admin from your Engage Dashboard by clicking on Online Ordering under Online Sales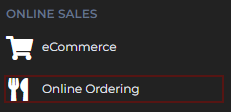 To create and manage a popup. Click on "Marketing" > "Alert" > "Custom Alert"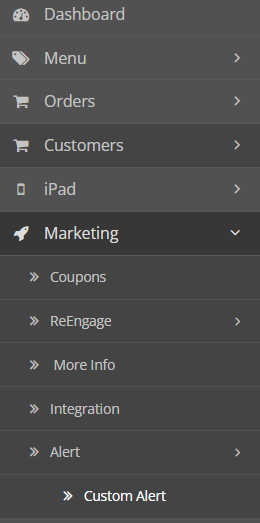 Individual popups can be turned on and off by toggling the green button for the corresponding popup type. Each popup title and message can be edited. There are three types of popups:

I. Home Page Popup (Online Ordering)

A homepage popup appears as soon as a customer launches your online ordering - before they even select their pickup method. These can be used for larger notifications or disclaimers that impact all potential customers.


Set Up View:

Popup View:

II. Category Popup

Category popups appear once a customer is actually in the online ordering menu. They are a great way to promote specials and discounts or highlight new dishes.


Set Up View:

Popup View:

III. Checkout Page Popup

These popups appear when a customer checks out. They are useful for comments about ordering, such as pickup directions or requests.


Set Up View:
Related Articles

Adding a Home Page Popup message to your website

This article shows you how to add and remove Pop Up Messages to the Home Page of your website so you can share important so you can share important updates with your customers e.g. New Opening Hours, Changes to Dine-In or Online Ordering Pickup or ...

Guide 5: Getting Started with your Engage Online Ordering Solution

Training Video 1: Overview of your Online Ordering Admin (Web Browser) Topics Covered in this Video & Links to Additional Support Articles: Enabling/Disabling your Online Ordering via the Admin Updating a Menu item and Enabling/Disabling a menu Item ...

Getting the most out of your Online Ordering (Webinar)

This recorded live training webinar focused on tips and tricks you need to manage your Online Ordering Solution. Topics covered include: Tips on Promoting your Online Ordering Solution Creating Discount Coupons Adding Popup messages to your Online ...

FAQ - Online Ordering Solution

What options are there for managing orders? There are multiple options for handling orders and many of these options can be used at the same time. E.g., get a text alert or an automated call if a print fails. Order Boss iPad Application Receipt ...

Tips for promoting your online ordering business

After you go live you will receive a URL link for your Online Ordering solution that you can publish anywhere your business has a presence on the internet. This article includes some quick and easy tips to help you let the world know you are ready to ...