How to manually upload an external Email List
1. In order to upload an email list in a CSV (comma delimited) format, navigate to your eSubscribers page by clicking on the "
Subscribers
>Import" menu show below, will be located on left panel.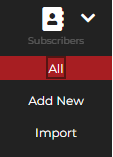 2. Click on the "Start the Import Wizard" button.
Most lists that are uploaded as a general addition to your "All Subscribers" list only need to have three columns: First Name, Last Name and Email Address, without
header rows.

3. You need to enter in your email address to receive the notification when your list has finished uploading, as well as clicking the "Choose File" button and browsing your computer for your CSV file to upload.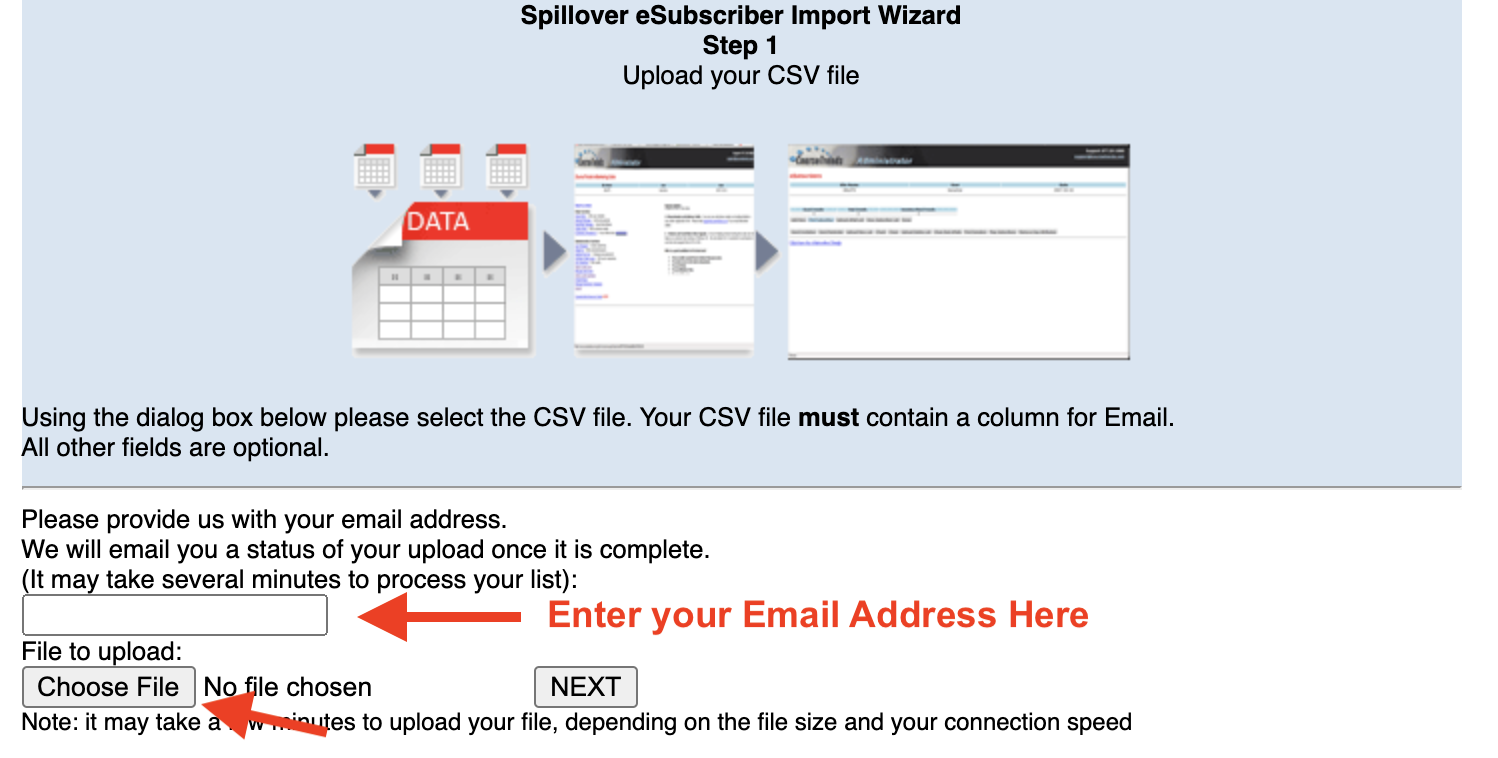 4. Click the "Next" button and you will see the first five lines of your selected file.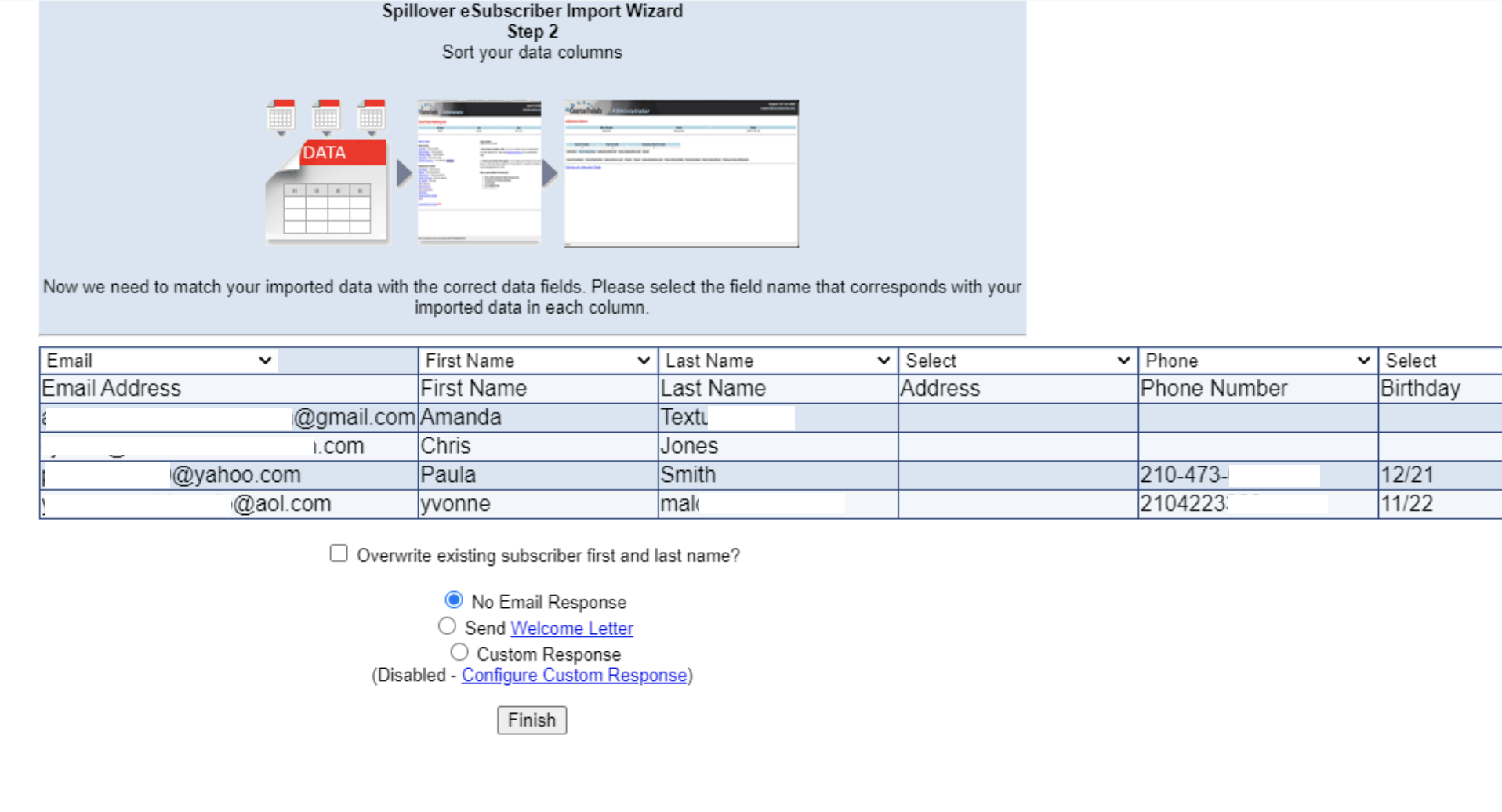 You will select the corresponding headers from the drop-down to denote what information is in which column.




If you wanted to add these subscribers to fall under specific lists, such as your member list, you would need another column as seen in the image with values of either "Yes" (to add them to the member's list) or "No" (to remove them from the member list/add them to your public list) with a capital letter.




If you accidentally upload a list and selected "First Name" from the drop-down over your column that contained the last names, just re-upload the list and check the box reading "Overwrite existing subscriber first and last name?"




Select "No Email Response"
5. After you click "Finish," you will receive an email alerting you once the list has finished uploading. If you have any questions about your custom email lists or would like another attribute added, please contact our support team.
Related Articles

Add a Custom Email Header

How to Add a Custom Header 1. In the Email Editor, click the "Email Header" button listed on the "Design Email" page. NOTE: The email template you are using must allow for a header. If you click "Headers" and you receive the message shown below, you ...

Editing Email Campaign Templates

To edit an email campaign that uses one of the provided templates, navigate to the Engagement section of your Engage dashboard and select Email Campaigns > Create. You will be brought to our template library where you can select an email from the ...

Email Merge Fields

Engage has a number of Mail Merge Fields that can be used in Custom and Automated email marketing campaigns. Merge Fields get updated with data from the Engage database whenever the email is sent. To insert a merge field into an email blast, click on ...

View Email Campaign Reports and Send One Time Retarget Emails

Use Email Campaign Reports To Review the Performance of an Email Campaign and Send One Time Retarget Emails. 1. Go to Email Campaigns->Campaigns in the Engagement Section of the Engage Navigation. 2. You will see a list of all Email Campaigns (both ...

Automation Overview: DIME Set and Forget Email Marketing

DIME = Dynamic Intelligent Marketing Engine As part of our automated email marketing solution, we have 18 default email messages ready to use in your Engage Solution. Automated Messages are an incredibly easy way to keep your customers engaged via ...