Adding a new page to your website
1. Select Pages from the website section of the Navigation.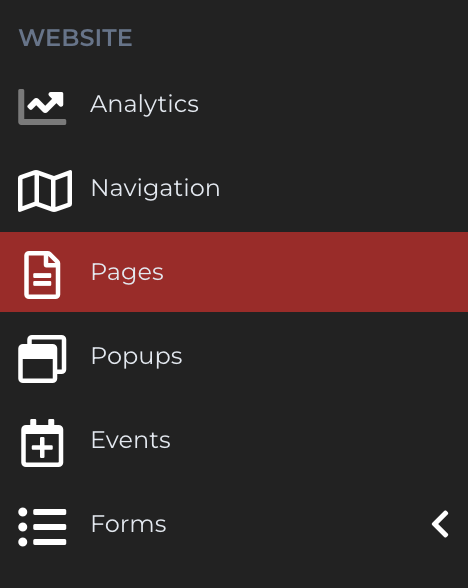 2, Select 'Add Page' to create a new page,
When adding a new page, the design elements of the existing site will be automatically copied over.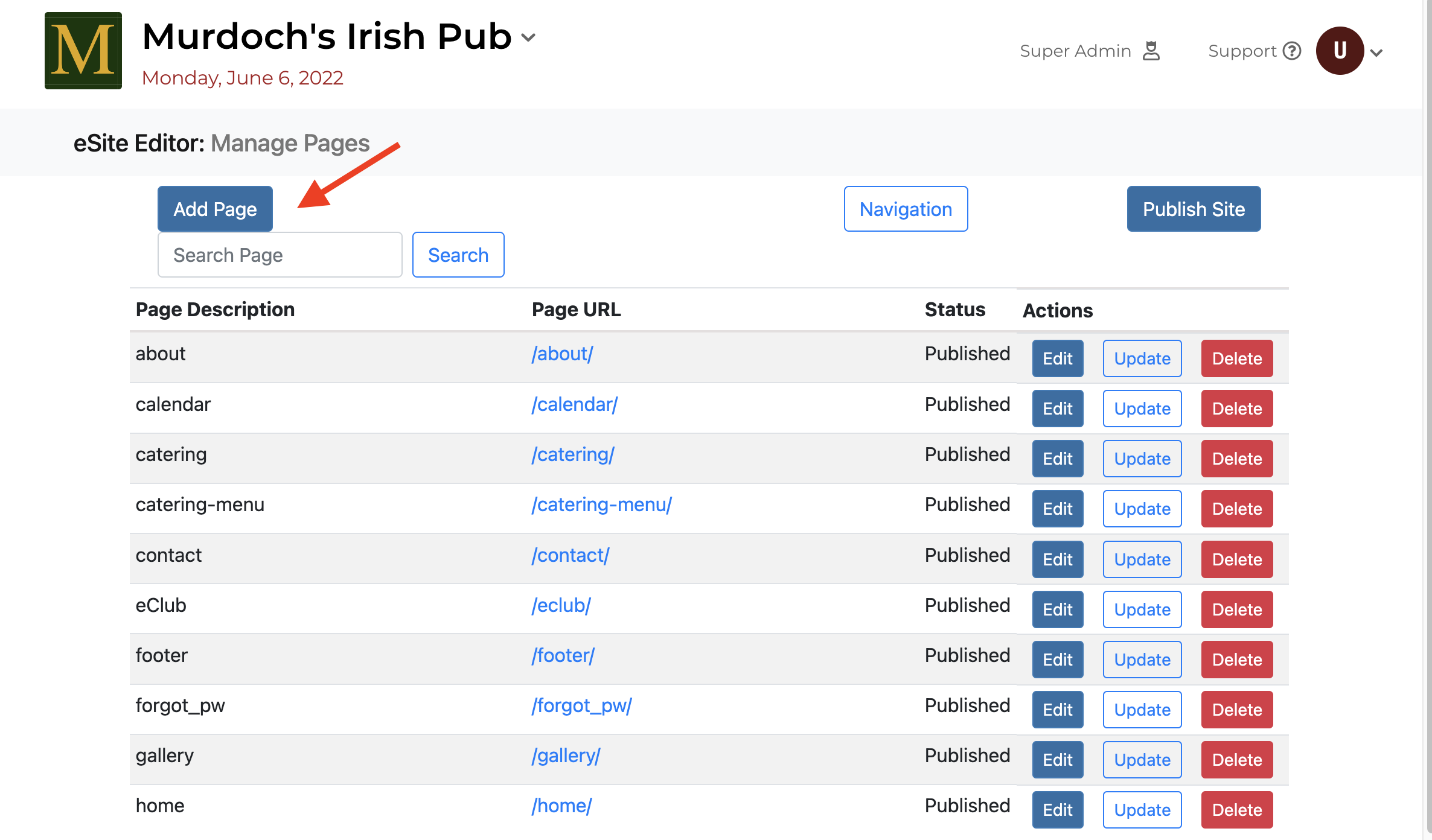 3, See below for ab explanation of all fields.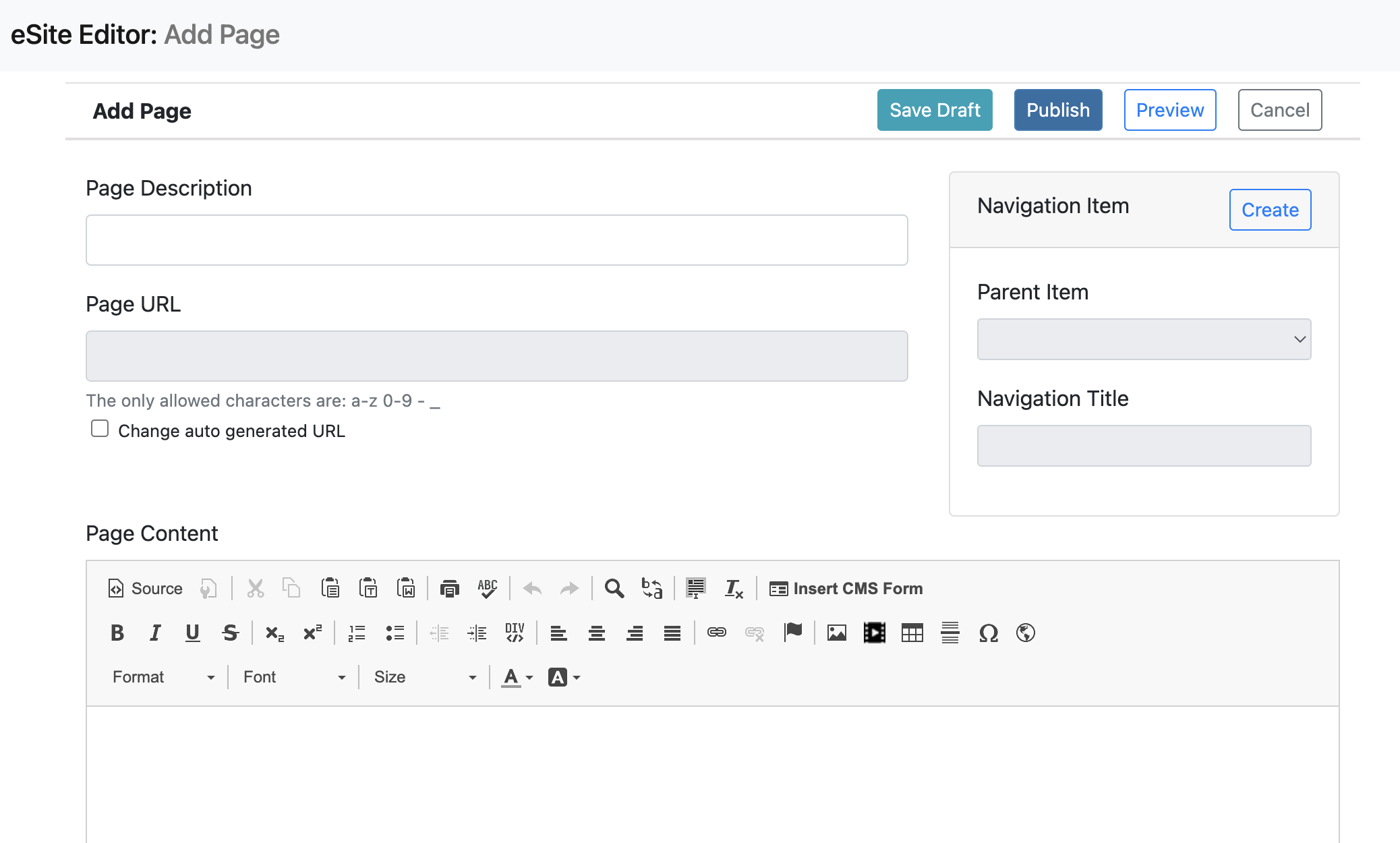 Page Description – the title of the page which displays on the main Site Editor page as well as at the top of the live page.

Page URL – this value is autogenerated based off the page description to append to the main site's domain (example: a page named Page URL would auto-generate: www.examplesite.com/page-url. A user may change this to a custom value by checking the 'Change auto generated URL' box. This field only allows lower case letters and numbers 0-9. Special characters are not permitted.

Page Content – allows basic text editing or HTML source editing. Users can now select 'Insert CMS Form' in the content editor to choose from a list of forms to add to the page.

Navigation Item – the user can add the page as a navigation item under a selected Parent (existing navigation item), or if 'No Parent' is selected, the page will be created as a root level navigation item. The user may choose to skip adding the page as a navigation item if they wish to do that at a later time. Note that if creating a navigation item from the 'Add Page' screen, the user must then select 'Publish Site' from the main Site Editor screen to publish the navigation item to the website.
Publish – this will save any changes made to the page and publish them to the site, with the above exception that newly created navigation items require 'Publish Site' as well.

Preview – opens a preview of the changes in a separate browser tab.

Cancel – abandons any changes and returns the user to the main Site Editor page.

Delete – permanently deletes the page.
Related Articles

Getting started with your Engage Website Management Tools

Adding a Home Page Popup message to your website Adding an event to your Website Events Calendar Making simple edits to your website pages e.g. editing About Us copy Updating your Website Navigation Making Simple Edits to Website Form / Updating a ...

Release Notes for Website Content Management System (CMS) Enhancements, April 2020

Enhancements in New Software Release April 2020 Included Topics : Site Editor, Adding & Editing Pages, Managing Forms & Managing Navigation. Overview: Spillover Software Group has made enhancements to the CMS that will allow users greater ...

Updating your website navigation

1. Click on Navigation in the Website Section 2. You can add a new Navigation Link or Sub Navigation Link. You can change the order of your navigation. 3. Add either website page or external URL link and enter a Title to display on the Navigation. ...

Guidance for Website Home Page Photos

Spillover Website Templates use a Landscape Frame for the main images on the homepage. If you are using a template with 1 main photo you will need 1 high resolution, landscape photo at least 2000 pixels in width. If you are using a template that has ...

Checklist to complete when your new site is live

To get the most out of your DIgital Marketing it is important to make sure that all your online platforms cross-reference each other and that your new website Is correctly listed on all social platforms and visa versa. Here Is a checklist of ...