Accessing Website Statistics
2. Click on the icon shown below - (this may take a second to load, so don't worry)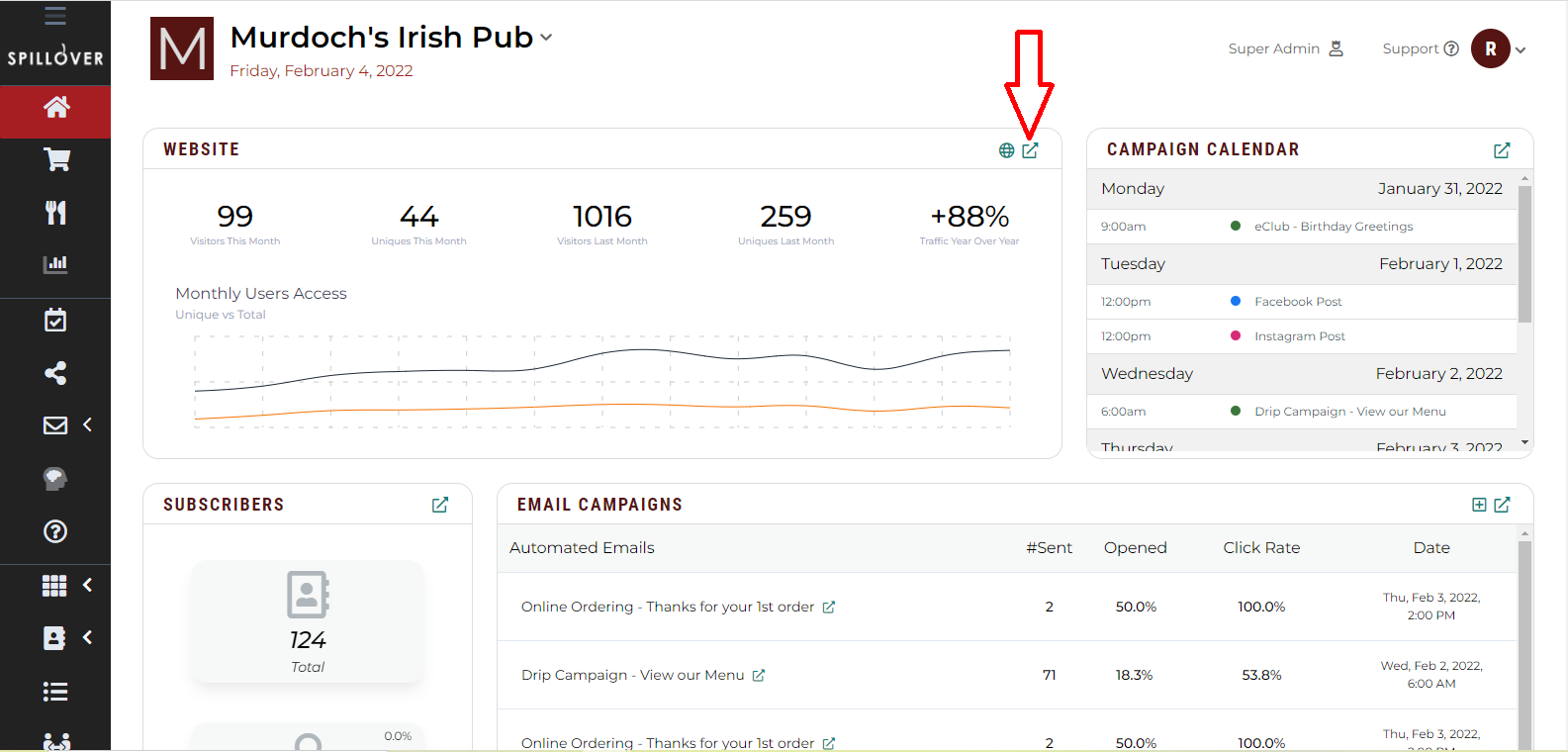 3. After clicking on "Site Statistics" a new page will load with all the website's stats. The navigation menu on the left of the screen has the breakdown of all the statistics that can be reviewed.

Related Articles

Overview of the Website Editor (Video)

This Video overview of the Website Editor will cover : Editing the content on a website page Adding a new page Adding a Pop Up Message to your Home Screen Adding a new form to a page Updating the Navigation on your website

Guidance for Website Home Page Photos

Spillover Website Templates use a Landscape Frame for the main images on the homepage. If you are using a template with 1 main photo you will need 1 high resolution, landscape photo at least 2000 pixels in width. If you are using a template that has ...

Managing your Website using the Engage Website Editor

Training Video 1 : Overview of the Engage Website Editor Making simple edits to your website pages e.g. editing About Us copy or Changing hours Adding a New Page or Form Updating your Navigation Adding a Home Page Popup message to your website ...

Configuring Sales Lead Forms on your website (Video)

Your website will include a number of Forms e.g. Catering Form, Private Events Form, eClub Form, Contact Us Form. This video shows you how to configure Auto Responses to these forms and how to setup Followup Auto Responses and how to route the ...

Adding Content to your website

1. Log into admin.spillover.com 2. Click the three lines to expand left navigation. 3. Scroll down on the left navigation and click "Pages". 4. Select the page to edit by clicking "Edit" on the right-hand side. 5. Click on the text in the green box ...